SIMPLE AND EASY MOVEMENT OF GOODS
The BT Tyro LHE150 powered pallet truck is ideal for occasional light-duty work.
It will make moving goods around in shops, small industries,
and warehouses more ergonomic and quicker.
Compact & stable
Thanks to its small turning radius and compact design, the BT Tyro allows for easy maneuvering in tight spaces. The 2 castor wheels on the sides ensure stability during pallet movement.
Effortless manoeuvring
This light-duty truck with 180° steering angle offers smooth and safe movement. The low weight of the BT Tyro makes it very easy to maneuver thanks to the low pressure on the drive wheel.
Li-Ion powered
This truck comes with a maintenance-free lithium-ion battery for fast and easy charging ensuring high availability and flexibility.
Speed control
The creep speed functionality allows for easy movement in tight areas. The reduced speed when cornering ensures enhanced safety when transporting goods around your application.
SWIFT AND SIMPLE STACKING
The BT Tyro SHE100 stacker truck is designed for occasional stacking.
A great support for low-intensity applications in confined areas such as small shops and companies.
A clear view of the forks
The clean design of the mast and low chassis offer an excellent view through the mast and to the load.
Excellent manoeuvrability
The 180° steering angle enables smooth and easy maneuvering and ensures safe handling.
Easy charging
The charger is built into the truck for easy connection to a power socket. With the 60Ah Li-ion battery and the 25A charger, the charging of the battery takes about 2.5 hours.
PIN code access
All BT Tyro trucks are equipped with PIN code to start up the truck. This enables easy access and prevents unauthorized use of the truck.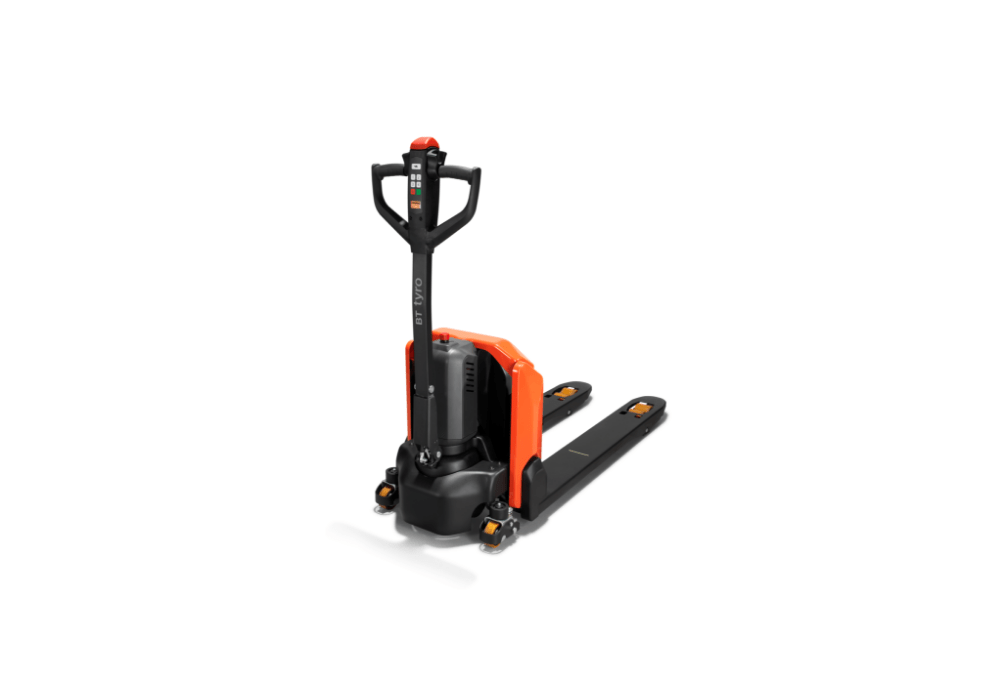 BT Tyro 1.5t with Lithium-ion
Capacity: 1500kg
Energy efficient with Lithium-ion
Small and agile
Secure with pin code for access
VIEW PRODUCT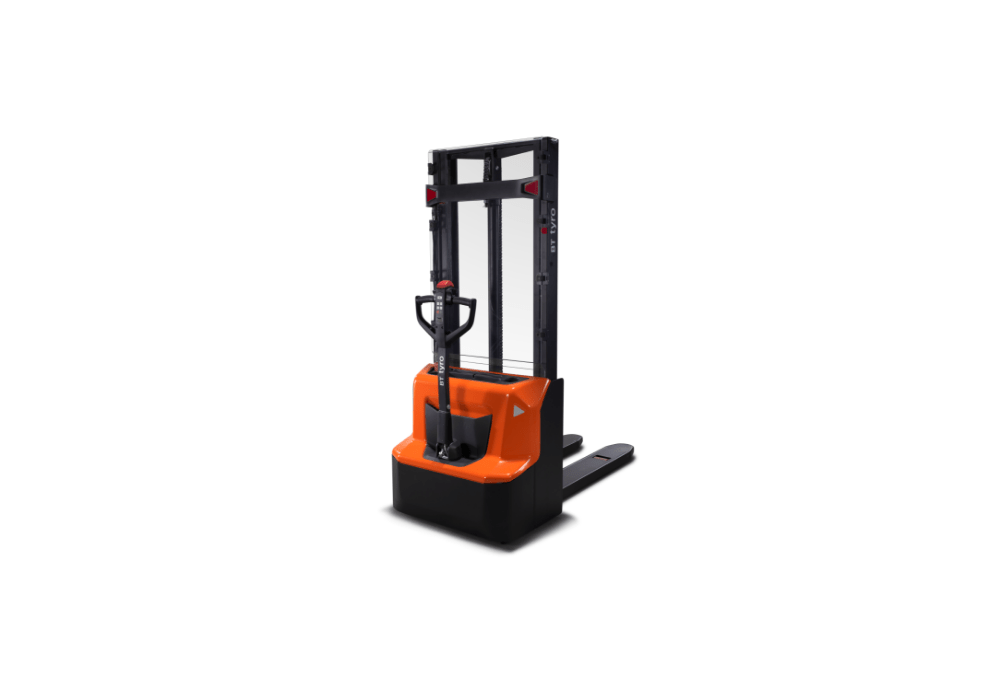 BT Tyro Stacker 1t with Lithium-ion
Capacity: 1000kg
Energy efficient with Lithium-ion
Perfect for light-duty stacking
Clear view mast for good visibility
VIEW PRODUCT
What are the benefits of light-duty powered forklifts compared to hand pallet trucks?
Entry-level powered pallet or stacker trucks like the BT Tyro allow to move goods quicker and smoother. They also improve ergonomics, safety and give more flexibility.
Are the BT Tyro models suitable for use on gradients?
BT Tyro LHE150 is suitable for both occasional use on ramps and for steeper gradients. The entry level stacker SHE100 is suited for even floors.
How long does the battery last on light-duty powered trucks?
All models in the BT Tyro range come with li-ion technology. Depending on model and application the battery can last a different number of hours and needs a few hours to charge. A second battery can be ordered as option for the LHE-models.
Can the BT Tyro pallet and stacker truck be used in cold applications?
No, the recommended temperature range is between +5°C and +40°C.
Similar products for more intense applications